Academic Interests
Our academic background is materials science and engineering. Currently, we are involved in a field of Industrial Ecology which focuses metabolisms of materials and energy in the anthroposhere. The goal of our studies is achieving a sustainable use of materials. Although the present society relies on many kinds of exhaustible resources, a sustainable use of materials can be achieved by less exhaustible resource consumption than their capacities of the earth.
Our approach is a system analysis on the basis of life-cycle and bird's-view perspectives and knowledge and doctrines in the field of materials science. Due to combination of materials in products, coproduction of metals from an ore and many different kinds of materials which have been developed so far, the systems of using materials is quite complex. Some aspects of the systems have been modeled in forms of mathematical equations; such as dynamic material flow analysis, absorbing Markov chain model, materials pinch analysis, and so on. Many of our publications contributed to reports from International Resource Panels, United Nations Environment Programme (UNEP). Furthermore, another achievement has been contributed to econometrics, especially to input-output analysis.
In order to achieve a sustainable use of materials, we figured out two key measures to make a current system push forward, that is, enhancement of recycling and letting efficiency of materials stocks in use be increased. On the other hand, we still have a significant gap between a current use of materials and a sustainable use of materials. On the basis of quite a long term perspective, a very basic question might be the relations between human needs and use of materials for them.
At present, we are mainly working on following three topics;
- recycling of metals and other materials,
- management of materials stock in use, and
- exploring relations between functionings of materials and human needs.
Access
e-Mail
Prof. Manabu ENOKI:enoki[at]rme.mm.t.u-tokyo.ac.jp
Associate Prof. Ichiro DAIGO:daigo[at]material.t.u-tokyo.ac.jp
Tel
Room No.335(Prof. ENOKI):+81-3-5841-7129
Room No.347(Associate Prof. DAIGO):+81-3-5841-8652
map
Faculty of Engineering Bldg.4 Room No.335&347, The University of Tokyo
7-3-1 Hongo Bunkyo-ku Tokyo 113-8656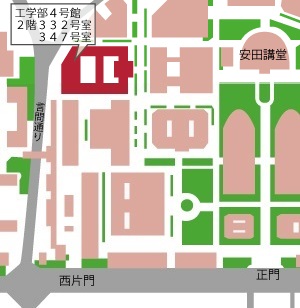 15min walk from Nedu Sta.(Subway: Chiyoda Line)
15min walk from Todaimae Sta.(Subway: Namboku Line)
20min walk from Hongo-sanchome Sta.(Subway:Marunouchi or Oedo Line)
25min walk from Kasuga Sta.(Subway:Mita Line)
can take a bus from Ueno sta. or Ochanomizu Sta.
[click]
Publication list (Peer reviewed papers)
Ichiro Daigo, Shin Kiyohara, Tomoki Okada, Daisaku Okamoto, Yoshikazu Goto: Element-Based Optimization of Waste Ceramic Materials and Glasses Recycling. Resources, Conservation & Recycling, in press. 2018
Jun Nakatani, Kiyotaka Tahara, Kenichi Nakajima, Ichiro Daigo, Hideaki Kurishima, Yuki Kudoh, Kazuyo Matsubae, Yasuhiro Fukushima, Tomohiko Ihara, Yasunori Kikuchi, Asako Nishijima, and Yuichi Moriguchi. A graph theory-based methodology for vulnerability assessment of supply chains using the life cycle inventory database. Omega, The International Journal of Management Science. 75, (2018) 165-181. DOI: 10.1016/j.omega.2017.03.003
K. Nakajima, I. Daigo, K. Nansai, K. Matsubae, W. Takayanagi, M. Tomita, Y. Matsuno: Global distribution of material consumption: Nickel, Copper, and Iron. Resources, Conservation & Recycling, in press. 2018
Ichiro Daigo, Leo Fujimura, Hideo Hayashi, Eiji Yamasue, Satoshi Ohta, Tran Duc Huy, Yoshikazu Goto: Quantifying the total amounts of tramp elements associated with carbon steel production in Japan. ISIJ Int. 57(2) 388-393, 2017
Benjamin Sprecher, Ichiro Daigo, Wouter Spekkink, Matthijs Vos, Rene Kleijn, Shinsuke Murakami, Gert Jan Kramer: Novel indicators for the quantification of resilience in critical material supply chains, with a 2010 rare earth crisis case study. Environmental Science and Technology, 51 (7) 2017, pp 3860-3870.
Kenichi Nakajima, Ichiro Daigo, Kenichi Okada, Shimpei Koike, Keisuke Nansai, Kazuyo Matsubae, Osamu Takeda, Takahiro Miki: Bottlenecks in Material Cycle of Nickel. Materiaux & Techniques, 104 6-7 (2016) 604.
Shunsuke Kuzuhara, Haruka Sakuma, Hideo Hayashi, Ichiro Daigo: The spatial distribution of tramp element contents in recycled steel. ISIJ Int., 57 (4) (2017), pp. 758-763
Ichiro Daigo, Kohei Iwata, Masahiro Oguchi, Yoshikazu Goto: Lifetime distribution of buildings decided by economic situation at demolition : D-based lifetime distribution. Procedia CIRP 61, 2017, 146-151.
Eiji Yamasue, Jordi Cravioto, Duc Quang Nguyen, Masahiro Oguchi, Ichiro Daigo, Lifetime Analysis for Electronic Devices in Vietnam. Procedia CIRP 61, 2017, 152-154.
Ichiro Daigo, Leo Fujimura, Hideo Hayashi, Eiji Yamasue, Satoshi Ohta, Tran Duc Huy, Yoshikazu Goto: Quantifying the total amounts of tramp elements associated with carbon steel production in Japan. ISIJ Int. 57(2) 388-393, 2017
Eiji Yamasue, Kazuyo Matsubae, Kenichi Nakajima, Ichiro Daigo, Keiichi N. Ishihara: Total Material Requirement of Scrap Steel from End-of-Life Vehicles. ISIJ Int. 56(8), 2016: 1487-1496
Nobuo Sekine, Ichiro Daigo, Yoshikazu Goto: Dynamic Substance Flow Analysis of Neodymium and Dysprosium Associated with Neodymium Magnets in Japan. Journal of Industrial Ecology. 21(2), (2016), 356-367.
Ichiro Daigo, Kei Oki, Yoshikazu Goto: A New Model to Explore the Relationship between Changes in Steel Demand and Economic Development Using Principal Component Analysis. Development Engineering, 22, 2016, 89-100.
Takehiro Hara, Ichiro Daigo, Yoshikazu Goto: Analysis on Cost of Home Appliances Recycling and a New Concept of Cost Allocation. Development Engineering, 22, 2016, 1-15.
Shinsuke Murakami, Tatsuhiko Kawamoto, Akiyuki Masuda and Ichiro Daigo: Metal Demand to Meet SDG Energy-related Goals. Global Environmental Research 19(2), 181-186 (2015)
Hiroki Hatayama, Kiyotaka Tahara, Ichiro Daigo: Worth of metal gleaning in mining and recycling for mineral conservation. Minerals Engineering 76, (2015), 58-64
Benjamin Sprecher, Ichiro Daigo, Shinsuke Murakami, Rene Kleijn, Matthijs Vos, Gert Jan Kramer: Framework for resilience in material supply chains, with a case study from the 2010 rare earth crisis. Env. Sci. Tech. 49, (2015) 6740-6750
Ichiro Daigo, Kohei Iwata, Ikumi Ohkata, and Yoshikazu Goto: Macroscopic Evidence for the Hibernating Behavior of Materials Stock. Env. Sci. Tech. 49 (14) 8691-8696 (2015)
A. Funada, I. Daigo, Y. Goto: Analysis of Changes in Steel Demand in Japanese High Economic Growth Period Based on Steel Stock and Flow. Development Engineering, 21, (2015), 1-13
Ichiro Daigo, Kenichi Nakajima, Masaaki Fuse, Eiji Yamasue, Koichi Yagi: Sustainable materials management on the basis of The relationship between materials' properties and human needs. Materiaux & Techniques. 102 (2014), 506
Hiroki Hatayama, Ichiro Daigo, Kiyotaka Tahara: Tracking effective measures for closed-loop recycling of automobile steel in China. Resources Conservation and Recycling 87, 2014, 65-71.
I. Daigo, S. Osako, Y. Adachi, Y. Matsuno: Time-series analysis of global zinc demand associated with steel. Resources, Conservation and Recycling, 82, 2014, 35-40
Hiroki Hatayama, Ichiro Daigo, Kiyotaka Tahara: Tracking effective measures for closed-loop recycling of automobile steel in China. Resources Conservation and Recycling 87, (2014), 65-71.
Ichiro Daigo and Yoshikazu Goto: Comparison of Tramp Elements Compositions in Steel Bars between Japan and China Tetsu-to-Hagane 100(6) 756-760 (2014).
E. Yamasue, K. Matsubae, K. Nakajima, I. Daigo, K.N. Ishihara: Total Material Requirement of Scrap Steel from End-of-Life Vehicle. Tetsu-to-Hagane Vol. 100 (2014) No. 6, 778-787.
Ichiro Daigo, Ryo Fujiwara and Yoshikazu Goto: How Metal Demand in Developed Countries Slows Down: a Comparative Study between Industrialized Countries. Development Engineering, 20 (2014), 41-48.
Ichiro Daigo, Kenichi Nakajima, Masaaki Fuse, Eiji Yamasue, Koichi Yagi: Sustainable materials management on the basis of The relationship between materials' properties and human needs. Materiaux & Techniques. 102 (2014), 506 (DOI: 10.1051/mattech/2014034)
Akihiro Yoshimura, Ichiro Daigo and Yasunari Matsuno: Global Substance Flow Analysis of Indium. Materials Transactions, 54(1), 102-109, (2013)
Eiji Yamasue, Ryota Minamino, Hiroki Tanikawa, Ichiro Daigo, Hideyuki Okumura, Keiichi N. Ishihara, and Paul H. Brunner: Quality Evaluation of Steel, Aluminum, and Road Material Recycled from End-of-Life Urban Buildings in Japan in Terms of Total Material Requirement. Journal of Industrial Ecology 17 (4), 555-565, 2013
J. Nakatani, I. Daigo, K. Matsubae, K. Nakajima, T. Ihara, T. Tahara: Structural Analysis of Supply Chain Outage Risks using Graph Theory. Development Engineering, 19. (2013), 23-35.
K. Kawahara, I.Daigo, Y.Matsuno, Y.Adachi: Estimation of World Steel Demand and In-Use Stock for Ships. Tetsu-to-Hagane, 98(4), 135-142, 2012
H. Hatayama, I. Daigo, Y. Matsuno: Evolution of aluminum recycling initiated by the introduction of next generation vehicles, Resources Conservation and Recycling 66, 2012, 8-14
Ichiro Daigo, Kenichi Nakajima, Takashi Fujisaki: Certification Criteria in Type I Ecolabelling Related to Metals for Sustainable Materials management. Journal of Shanghai Jiaotong Univ.(Sci) 17(3) 2012, 377-379 (with Erratum in 17(4) 512)
Sadataka Horie, Ichiro Daigo, Yasunari Matsuno, Yoshihiro Adachi: Comparison of Water Footprint for Industrial Products in Japan, China and USA. M. Finkbeiner Ed. "Towards Life Cycle Sustainability Management" Springer, 2011, pp 155-160
I.Daigo, H-K Jang, Y.Matsuno: Evaluation of CO2 Emissions and Economic Feasibility on Recycling System for Glass Sheets from End-of-Life Vehicles. Journal of LCAJ 7(1), 72-78, 2011
Feng-Chi Hsu, Ichiro Daigo, Yasunari Matsuno, Yoshihiro Adachi: Estimation of Steel Stock in Building and Civil Construction by Satellite Images, ISIJ International 51(2), 2011, 313-319
K. Kawahara, I.Daigo, Y.Matsuno, Y.Adachi: Impact Analysis of Copper Price on Copper Scrap Recovery. J. Japan Inst. Metals, 75(6), 327-331, 2011
A. Yoshimura, I.Daigo, Y.Matsuno, Y.Adachi: Construction of Global Scale Substance Flow of Indium from Mining. J. Japan Inst. Metals, 75(9), 493-501, 2011
T. Oda, I.Daigo, Y.Matsuno, Y.Adachi: Substance Flow and Stock of Chromium Associated with Cyclic Use of Steel in Japan. ISIJ Int. 50(2) 314-323 (2010).
Seiji Hashimoto, Ichiro Daigo, Matthew Eckelman, Barbara Reck: Measuring the status of stainless steel use in the Japanese socio-economic system. Resources, Conservation and Recycling 54(10) 737-743 (2010)
S. Murakami, M. Oguchi, T. Tasaki, I. Daigo and S. Hashimoto: Lifespan of commodities, Part I: The Creation of a Database and Its Review, Journal of Industrial Ecology. 14(4), pp.598-612 (2010)
M. Oguchi, S. Murakami, T. Tasaki, I. Daigo and S. Hashimoto: Lifespan of commodities, Part ΙΙ: Methodologies for estimating lifespan distribution of commodities. Journal of Industrial Ecology. 14(4), pp.613-626 (2010)
I. Daigo, Y. Matsuno, Y. Adachi: Substance Flow Analysis of Chromium and Nickel in the Material Flow of Stainless Steel in Japan. Resources, Conservation and Recycling 54 (2010) 851-863.
H. Hatayama, I. Daigo, Y. Matsuno, Y. Adachi: Outlook of the world steel cycle based on the stock and flow dynamics. Environmental Science and Technology. 2010, 44 (16), pp 6457-6463
E. Yamasue, R. Minamino, K. Numata, S. Murakami, I. Daigo, K. Nakajima, S. Hashimoto, H. Okumura and K. N. Ishihara: Novel Evaluation Method of Elemental Recyclability from Urban Mine : Concept of Urban Ore TMR. J. Japan Inst. Metals, 74(11), 2010, 718-723
E. Yamasue, R. Minamino, I. Daigo, H. Okumura, K.N. Ishihara: Evaluation of Total Materials Requirement for the Recycling of Elements and Materials (Urban Ore TMR) from End-of-Life Electric Home Appliance. J. Japan Inst. Metals, 74(12), 2010, 811-819
H-K Jang, I.Daigo, Y.Matsuno, Y.Adachi: Estimating Potential of Glass Recycling in Japan by Dynamic Material Flow Analysis. Journal of LCAJ 6(4), 288-294, 2010
W. Shi, I.Daigo, Y.Matsuno, Y.Adachi: Substance Flow Analysis of Dysprosium in Japan. J. Japan Inst. Metals, 74(11) , 758-765, 2010
S. Kuriki, I.Daigo, Y.Matsuno, Y.Adachi: Recycling Potential of Platinum Group Metals in Japan. J. Japan Inst. Metals, 74(12) , 801-805, 2010
F-C Hsu, I.Daigo, Y.Matsuno, Y.Adachi: Estimation of Steel Stock in Building and Civil Construction by Satellite Images. Tetsu-to-Hagane, 96(8), 517-523, (2010) (in Japanese)
I.Daigo, M. Sasaki, K. Fujisaki, Y.Matsuno, Y.Adachi: Method to Estimate Potential Environmental Burden Reductions by Introducing Design for Disassembly. Journal of the Japan Society of Material Cycles and Waste Management 21(5), 178-191, 2010
Ichiro Daigo, Susumu Hashimoto, Yasunari Matsuno and Yoshihiro Adachi: Material stock and flow accounting for copper and copper-based alloys in Japan. Resources, Conservation & Recycling 53 (2009) 208-217.
Hirato, I.Daigo, Y.Matsuno, Y.Adachi: In-use Stock of Steel Estimated by Top-down Approach and Bottom-up Approach. Tetsu-to-Hagane, 95(1), 96-101 (2009)
H.Hatayama, I.Daigo, Y.Matuno, Y,Adachi: Assessment of the Recycling Potential of Aluminum in Japan, the United States, Europe and China. Materials Transactions 50 (3) 2009, 650-656
I.Daigo, Y. Matsumoto, Y.Matsuno, Y.Adachi: Material Stock and Flow Analysis of Stainless Steel Based on Mass Balances of Cr and Ni. Tetsu-to-Hagane, 95(6), 506-514 (2009)
E. Yamasue, R. Minamino, K. Numata, S. Murakami, I. Daigo, K. Nakajima, S. Hashimoto, H. Okumura and K. N. Ishihara: Novel Evaluation Method of Elemental Recyclability from Urban Mine - Concept of Urban Ore TMR -. Materials Transactions. 50(6) 2009. 1536-1540
Kazue Ichino-Takahashi, Ryutaro Terakado, Jiro Nakamura, Ichiro Daigo, Yasunari Matsuno and Yoshihiro Adachi: In-Use Stock of Copper Analysis Using Satellite Nighttime Light Observation Data. Materials Transactions 50(7) (2009) pp.1871-1874.
Hiroshi Tabayashi, Ichiro Daigo, Yasunari Matsuno, Yoshihiro Adachi: Development of a Dynamic Substance Flow Model of Zinc in Japan. ISIJ Int. 49(8), 1265-1271 (2009)
E.YAMASUE, R.MINAMINO, I.DAIGO, H.OKUMURA, K.N. ISHIHARA. Evaluation of Total Materials Requirement for the Recycling of Elements and Materials (Urban Ore TMR) from End-of-Life Electric Home Appliances. Materials Transactions 50(9) 2165-2172 (2009)
T. Oda, I.Daigo, Y.Matsuno, Y.Adachi: Substance Flow and Stock of Chromium Associated with Cyclic Use of Steel in Japan. T Tetsu-to-Hagane, 95(10), 720-729, (2009)
R. Terakado, K. Takahashi I.Daigo, Y.Matsuno, Y.Adachi: In-Use Stock of Copper in Japan Estimated by Bottom-Up Approach. J. Japan Inst. Metals, 73(9), 713-719, (2009)
R. Terakado, K. Takahashi, I.Daigo, Y.Matsuno, Y.Adachi: Estimation of In-Use Stock of Copper in China, Korea and Taiwan. J. Japan Inst. Metals, 73(11) , 833-838, (2009)
E. Kakiuchi, H. Hatayama, I.Daigo, Y.Matsuno, Y.Adachi: Estimation of Future Steel Stock and Flow in East Asia. Tetsu-to-Hagane, 95(12), 902-910, (2009)
T.Hirato, I.Daigo, Y.Matsuno, Y.Adachi: In-use Stock of Steel Estimated by Top-down Approach and Bottom-up Approach. ISIJ Int. 49(12), 1967-1971 (2009)
K.Tatsumi, I.Daigo, Y.Matsuno, Y.Adachi: Analysis on Recycling Potential of Copper in Japan. J. Japan Inst. Metals 72(8) 617-624 (2008).
Matthew J. Eckelman, Ichiro Daigo: Markov chain modeling of the global technological lifetime of copper. Ecological Economics 67(2) 265-273 (2008)
Yuma Igarashi, Elijah Kakiuchi, Ichiro Daigo, Yasunari Matsuno, Yoshihiro Adachi: Estimation of Steel Consumption Obsolete Scrap Generation in Japan and Asian countries in the Future. ISIJ Int. 48(5), 696-704 (2008)
H.Hatayama.; I.Daigo.; Y.Matsuno; Y.Adachi. Assessment of Recycling Potential of Aluminum in Japan, the United States, Europe and China. J. Japan Inst. Metals 72(10), 812-818 (2008) (in Japanese)
H. Tabayashi; I.Daigo.; Y.Matsuno; Y.Adachi. Development of a Dynamic Substance Flow Model of Zinc in Japan. Tetsu-to-Hagane, 94 (11), 562- 568 (2008) (in Japanese)
K. Takahashi, R. Terakado, J. Nakamura, I.Daigo, Y.Matsuno, Y.Adachi: Analysis of In-Use Stock of Copper by Using Satellite Nighttime Light Observation Data. J. Japan Inst. Metals 72(11), 852-855 (2008)
I.Daigo, Y.Igarashi, Y.Matsuno, Y.Adachi: Accounting for steel stock in Japan, ISIJ International 47(7), 1064-1068 (2007)
I.Daigo, Y.Matsuno, Y.Adachi: Development of methodology for Quantifying Collection Ratio of Post-consumer Products Based on Material Flow of Steel, Materials Transactions, 48(3), 574-578, (2007)
Yuma Igarashi, Ichiro Daigo, Yasunari Matsuno and Yoshihiro Adachi: Estimation of Quality Change in Domestic Steel Production Affected by Steel Scrap Exports, ISIJ international, 47(5), 753-757, (2007)
Y.Igarashi, I.Daigo, Y.Matsuno and Y.Adachi: Dynamic material flow analysis for stainless steel in Japan --- Reduction potential of CO2 emissions by promoting closed loop recycling of stainless steel, ISIJ international, 47(5), 758-763, (2007)
Ichiro Daigo, Yuma Igarashi, Yasunari Matsuno, Yoshihiro Adachi: Accounting for steel stock in Japan, ISIJ International 47(7), 1064-1068 (2007)
I.Daigo, S.Hashimoto, Y.Matsuno, Y.Adachi: Dynamic Analysis on Material Balance of Copper and Copper-Alloy Scraps in Japan, J. Japan Inst. Metals 71(7), 563-569 (2007)
Eiji Yamasue, Kenichi Nakajima, Ichiro Daigo, Seiji Hashimoto, Hideyuki Okumura and Keiichi N. Ishihara: Evaluation of the Potential Amounts of Dissipated Rare Metals from WEEE in Japan, Materials Transactions 48(9), 2353-2357, (2007)
Hatayama, H.; Yamada, H.; Daigo, I.; Matsuno, Y.; Adachi, Y. Dynamic substance flow analysis of aluminum and its alloying elements. Mater. Trans. 2007, 48(9), 2518-2524, (2007)
Hiroyuki Yamada, Ichiro Daigo, Yasunari Matsuno and Yoshihiro Adachi: Prediction Model for Number of Waste Products Being Abandoned : One Study on Color TVs Discarded after Analog Broadcasting was Terminated, Journal of the Japan Society of Waste management Experts, 18(3), 194-204, (2007)
Yuma Igarashi, Elijah Kakiuchi, Ichiro Daigo, Yasunari Matsuno, Yoshihiro Adachi: Estimation of Steel Consumption Obsolete Scrap Generation in Japan and Asian countries in the Future, Tetsu-to-Hagane, 93(12), 782-791, (2007)
Yasunari Matsuno; Ichiro Daigo; Yoshihiro Adachi: Application of Markov Chain Model to Calculate the Average Number of Times of Use of a Material in Society. An Allocation Methodology for Open-Loop Recycling. Part 2: Case Study for Steel, Int.J.LCA. 12(1), 34-39 (2007)
Ichiro Daigo, Yasunari Matsuno, Yoshihiro Adachi: Development of methodology for quantifying collection ratio of post-consumer products based on material flow of steel, J. Japan Inst. Metals, 70(2), 114-117, (2006)
D Fujimaki, Y Igarashi, I Daigo, Y Matsuno, Y Adachi : Estimation of quality change in domestic steel production affected by steel scrap exports, Tetsu-to-Hagane, 92(6), 401-405, (2006)
Hiroyuki Yamada; Ichiro Daigo; Yasunari Matsuno; Yoshihiro Adachi; Yasushi Kondo: Application of Markov Chain Model to Calculate the Average Number of Times of Use of a Material in Society. An Allocation Methodology for Open-Loop Recycling. Part 1: Methodology Development, Int.J.LCA, 11(5), 354-360(2006)
H.Yamada, I.Daigo, Y.Matsuno, Y.Adachi: Application of the Markov Chain Model for Analyzing the Average Number of Times of Use of Wood Pulp in Japan, Waste Management Research, 17(5), 313-321 (2006)
H.Hatayama, H.Yamada, I.Daigo, Y.Matsuno and Y.Adachi: Dynamic Substance Flow Analysis of Aluminum and Its Alloying Elements. J. Japan Inst. Metals. 70(12), (2006) 975-980
H.Yamada, H.Hatayama, I.Daigo, Y.Matsuno and Y.Adachi: Optimization Method for Metal Recycling System and Its Application to Aluminum Recycling Flow in Japan. J. Japan Inst. Metals, 70(12), (2006) 995-1001
Y.Igarashi, I.Daigo, Y.Matsuno and Y.Adachi: Dynamic material flow analysis for stainless steel in Japan and CO2 emissions reduction potential by promotion of closed loop recycling, Tetsu-to-Hagane, 91(12), 57-63, (2005)
Y.Adachi, I.Daigo, H.Yamada and Y.Matsuno: Development of a dynamic model for CO2 emissions from the gasoline vehicle in its use stage, Development engineering, 11, 19-29, (2005)
I.Daigo, T.Wakamatsu, E.Yamasue, K.N.Ishihara: Evaluation of Energy Efficiency in Transportation by the Use of Overall Friction Coefficient, Journal of the Japan Institute of Energy, 84(2), 119-125, (2005)
I.Daigo, T.Terasawa, Y.Matsuno, M.Yamashita and Y.Adach: Environmental and Economic Analysis of Recycling System Using Gasification Plant for Flame Retardance Waste Plastics from Used Home Appliances, Tetsu-to-Hagane, 91(1), 192-198 (2005)
I.Daigo, D.Fujimaki, Y.Matsuno, Y.Adachi: Assessing Environmental Impact Associated with Cyclic Use of Steels-Indirect Reduction Potential of Environmental Impacts by the Introduction of Easy Disassemble Design for Automobiles, Tetsu-to-Hagane, 91(1), 179-183 (2005)
I.Daigo, D.Fujimaki, Y.Matsuno, Y.Adachi: Development of a Dynamic Model for Assessing Environmental Impact Associated with Cyclic Use of Steel, Tetsu-to-Hagane, 91(1), 171-178, 2005
I.Daigo, Y.Matsuno, K.N. Ishihara, Y.Adachi: Application of Markov Chain Model to analyzing the average number of times of use and the average residence time of Fe element in Society, Tetsu-to-Hagane, 91(1), 159-166, (2005)
K.Nakajima, W.Tamaki, D.Fujimaki, I.Daigo: Analysis of Scrap flow in Japan, Tetsu-to-Hagane, 91(1), 150-153, (2005)
I.Daigo, T.Terasawa, Y.Matsuno, M.Yamashita and Y.Adachi : Environmental and Economic Analysis of Zero-Emission Chemical Recycling Technology for Waste Plastics From Used Electrical Appliances and Automobile Shredder Residue, Transactions of the Materials Research Society of Japan, 29(5), 1849-1852(2004)
I.Daigo, T.Terasawa, Y.Matsuno, M.Yamashita and Y.Adachi : Environmental and Economic Analysis of Zero-Emission Chemical Recycling Technology for Waste Plastics From Used Electrical Appliances and Automobile Shredder Residue, Transactions of the Materials Research Society of Japan, 29(5), 1849-1852(2004)
P.H.Shingu , K.N.Ishihara , A.Otsuki , I.Daigo: Nano-scaled multi-layerd bulk materials manufactured by repeated pressing and rolling in the Cu-Fe system, Materials Science and Engineering A301-306, pp399-402 (2001)
P.H.Shingu, K.N.Ishihara, A.Otsuki, M.Hashimoto, N.Hasegawa, I.Daigo and B.Huang: Nano-Scaled Multilayered Bulk Materials Manufactured by Repeated Pressingand Rolling in the Ag-Fe and Cu-Fe Systems, Materials Science Forum, Vols.312-314,pp.293-298, (1999)